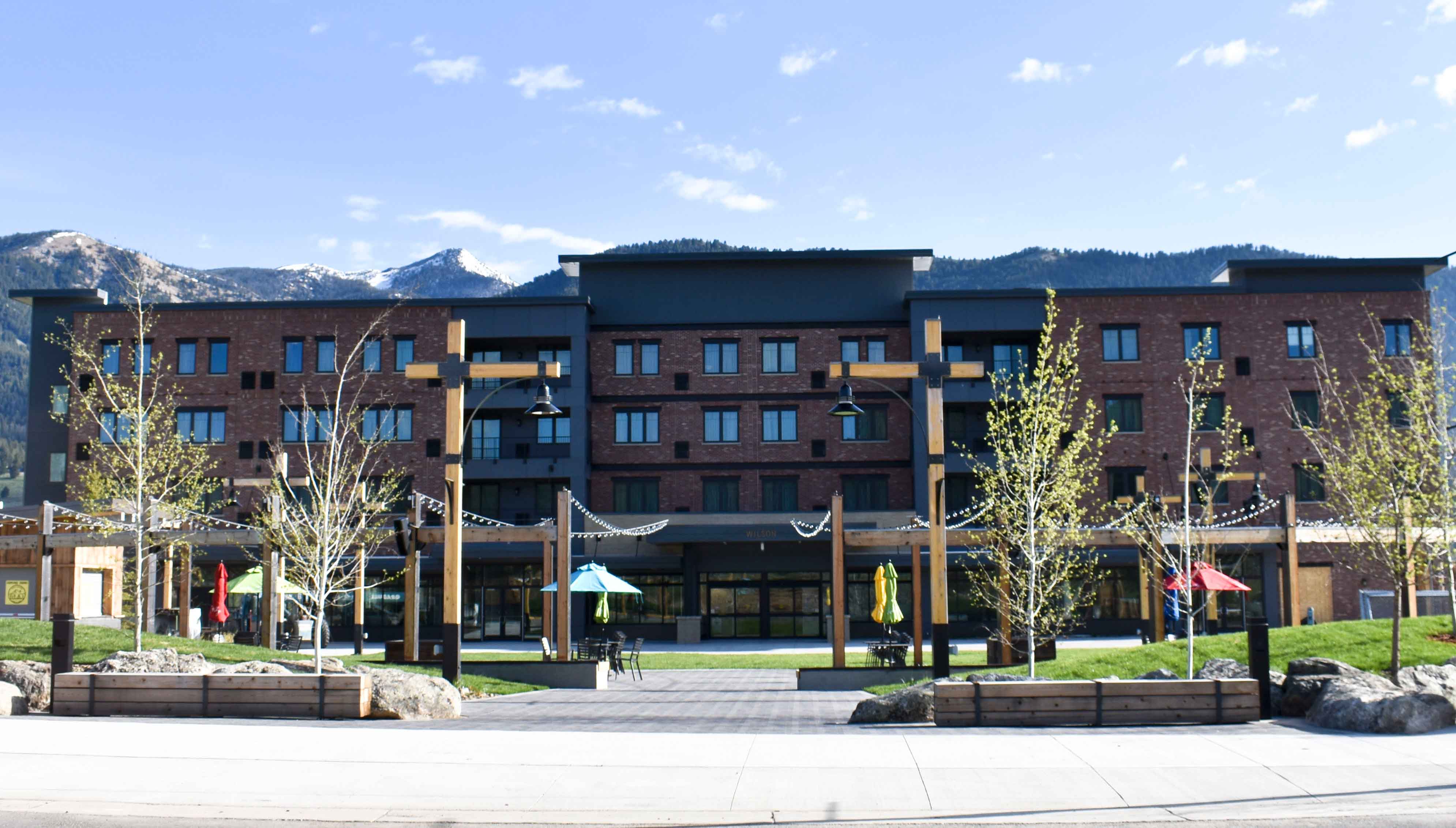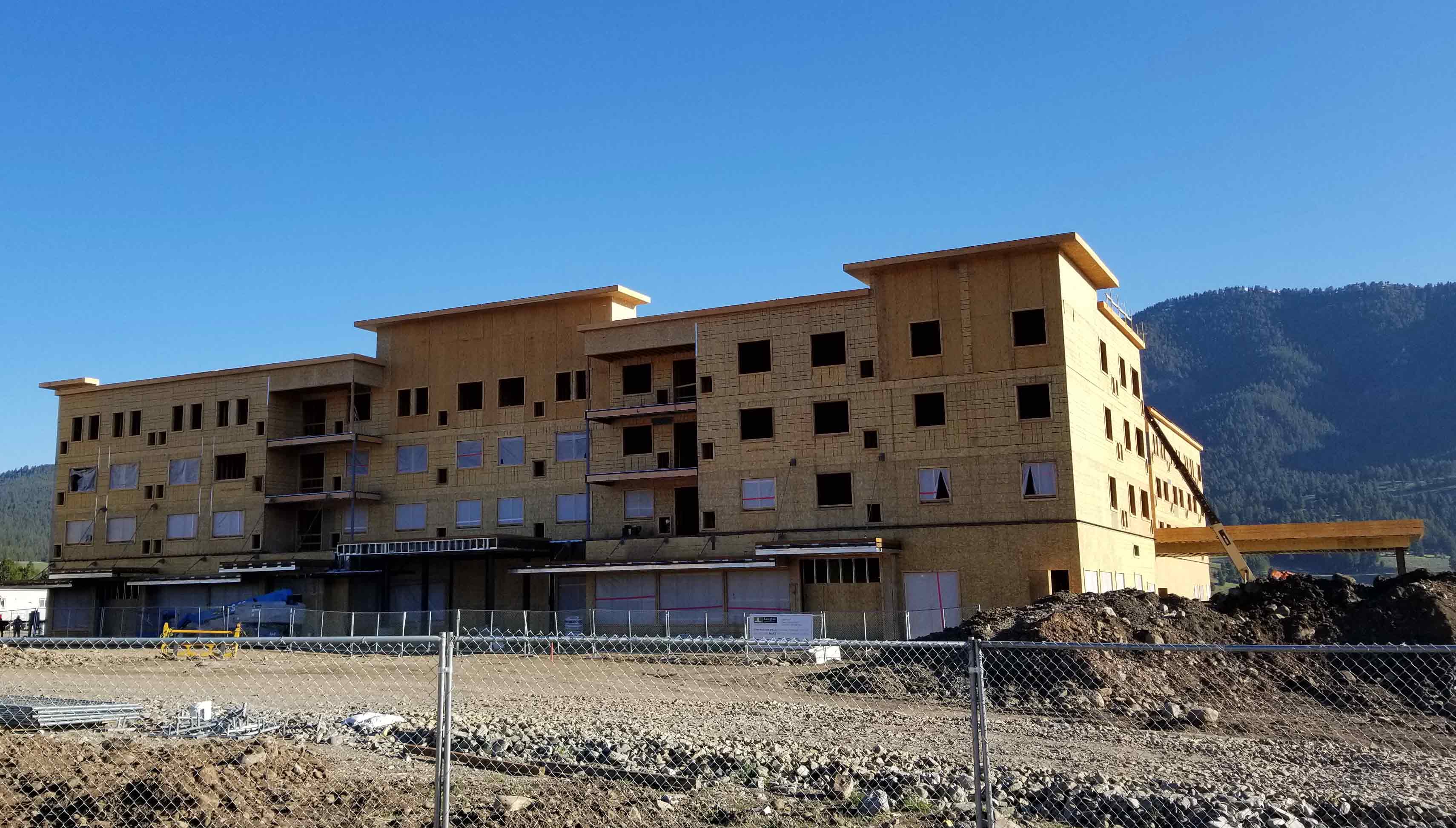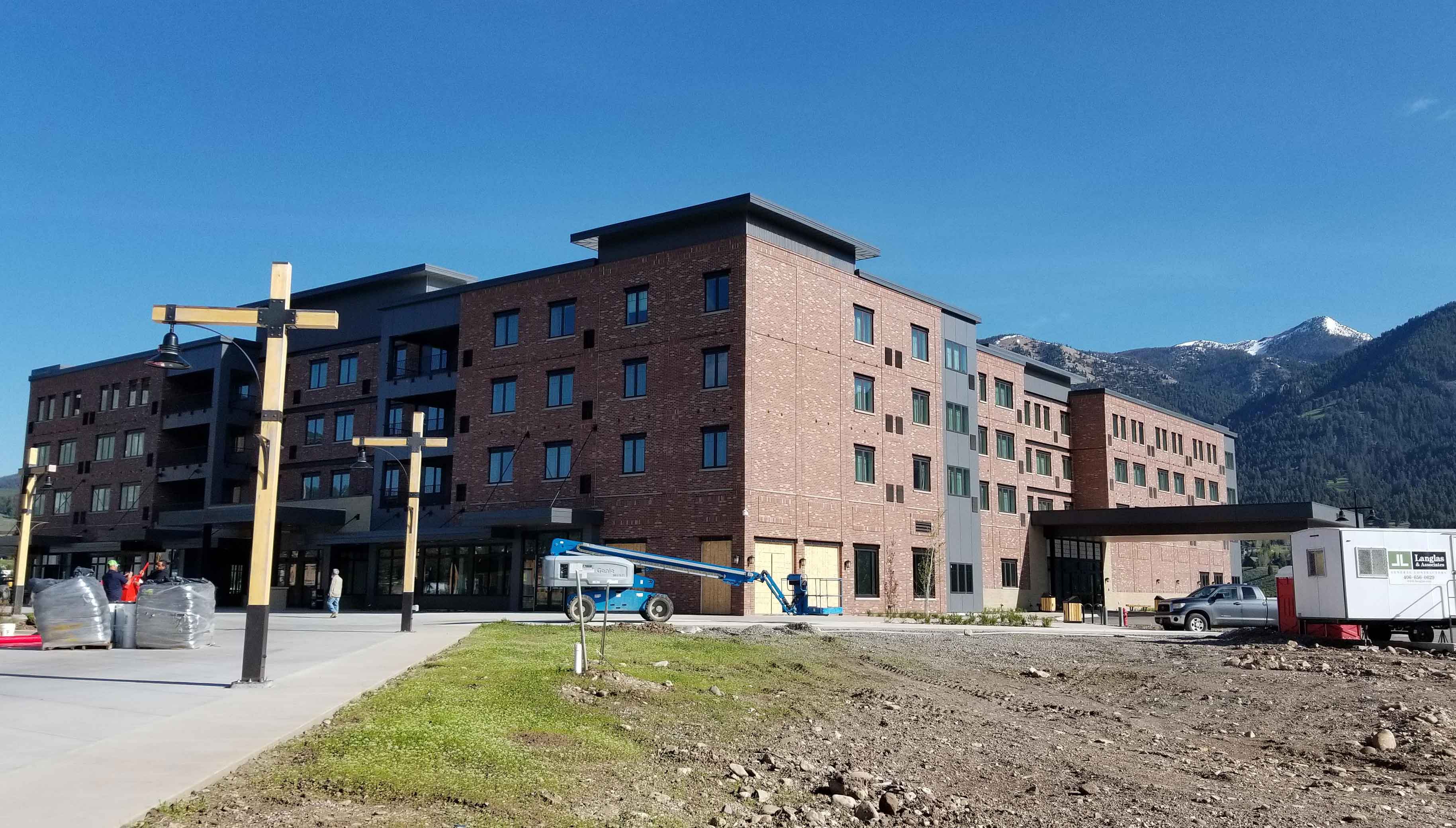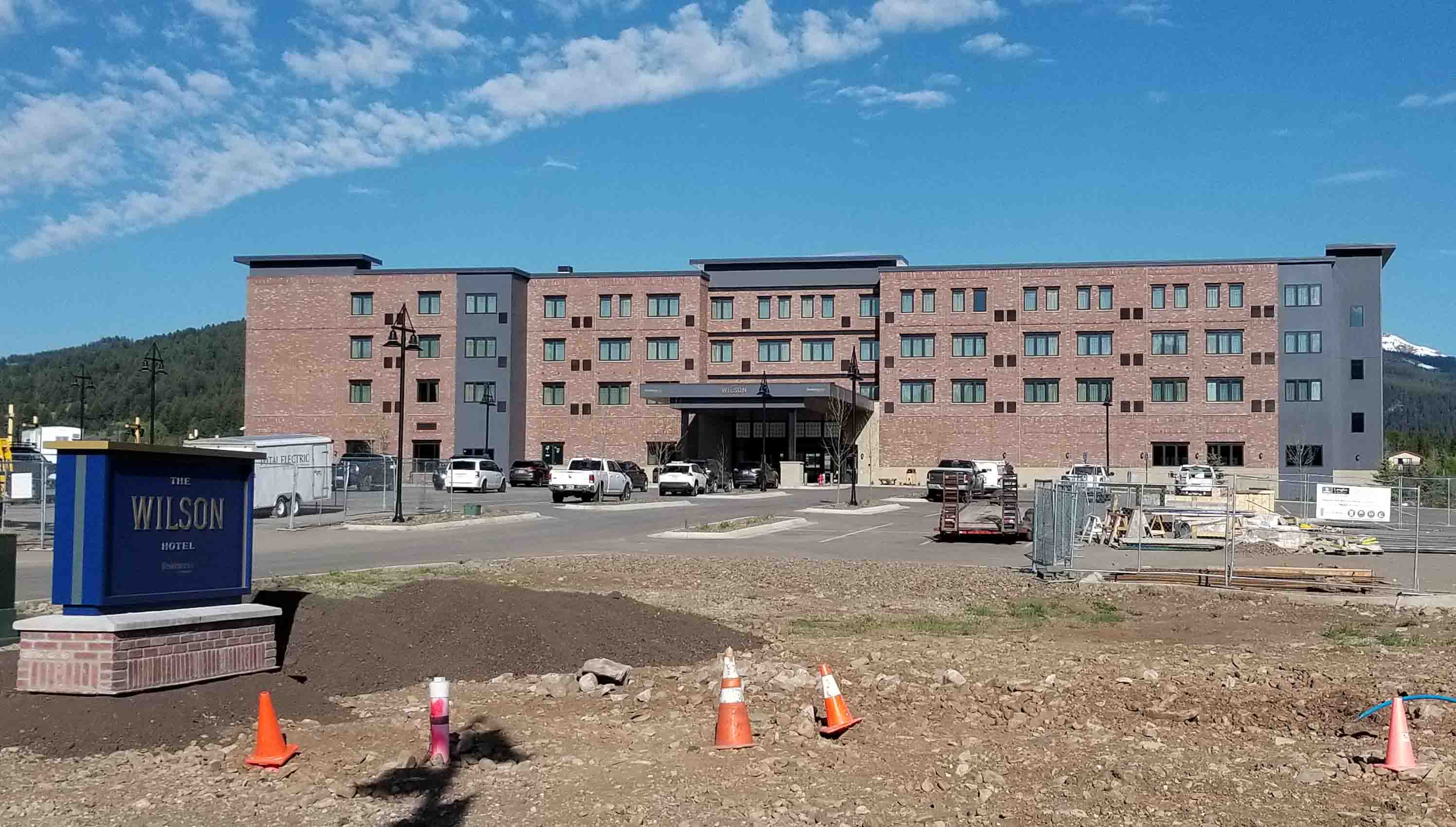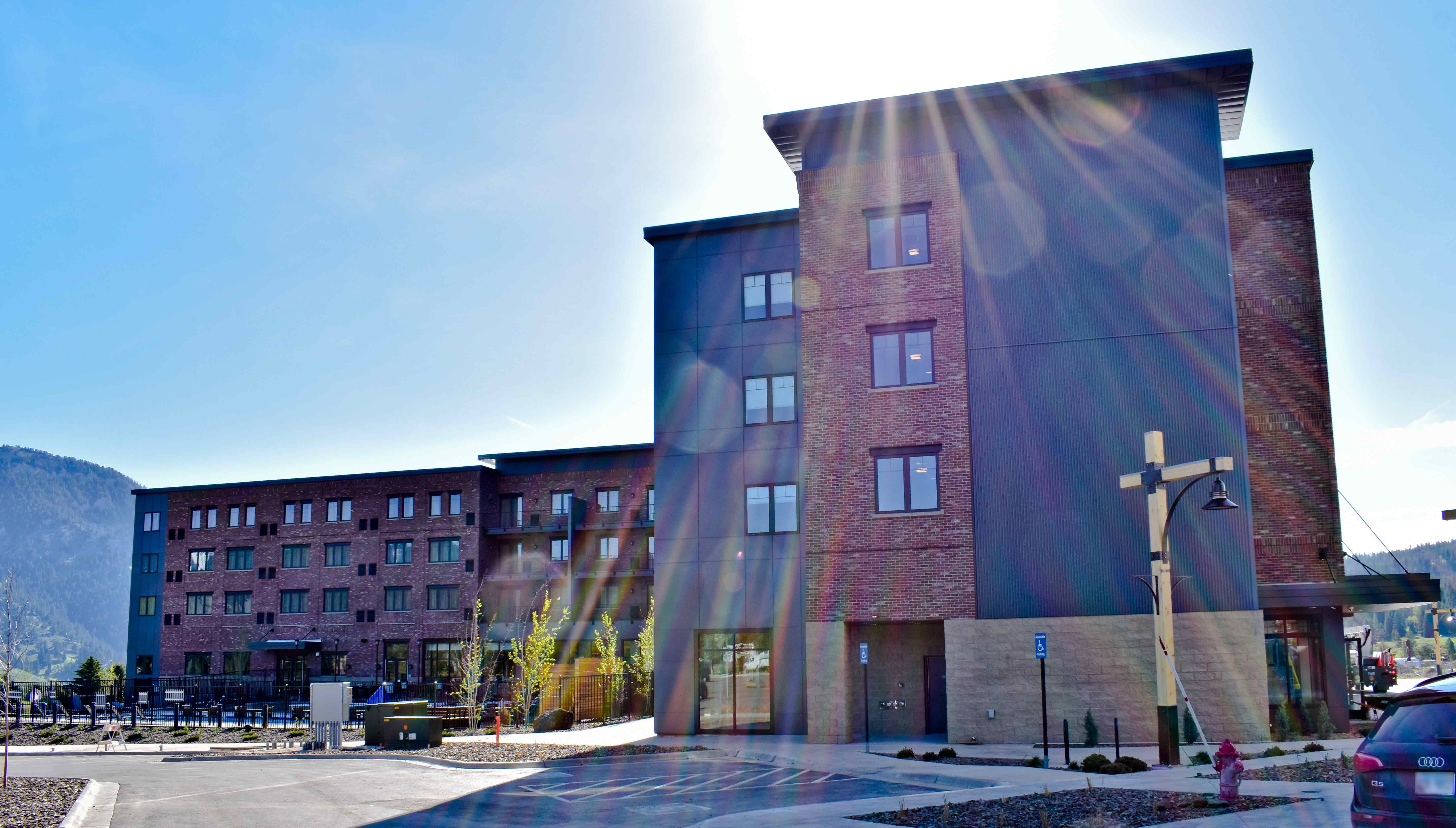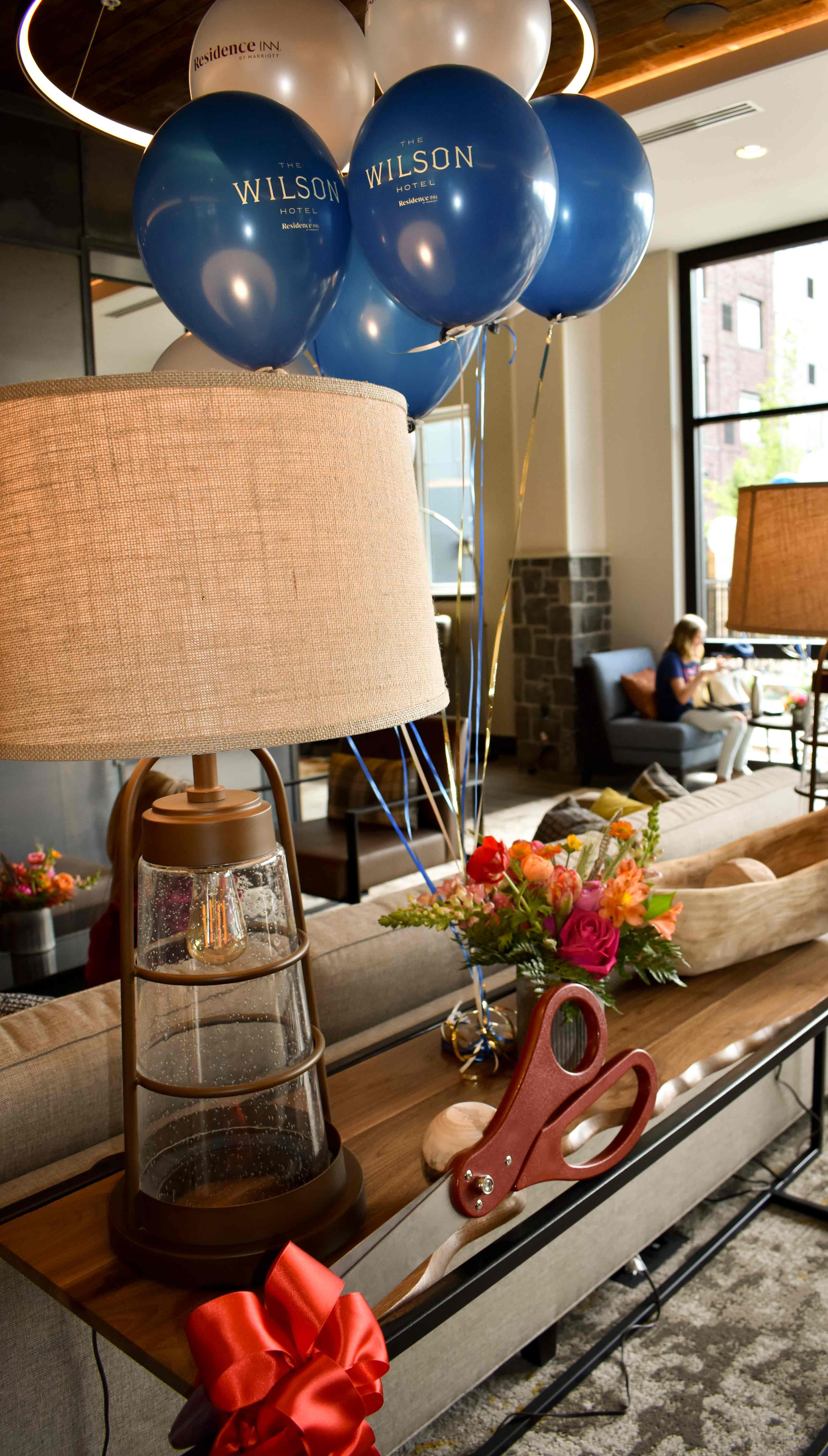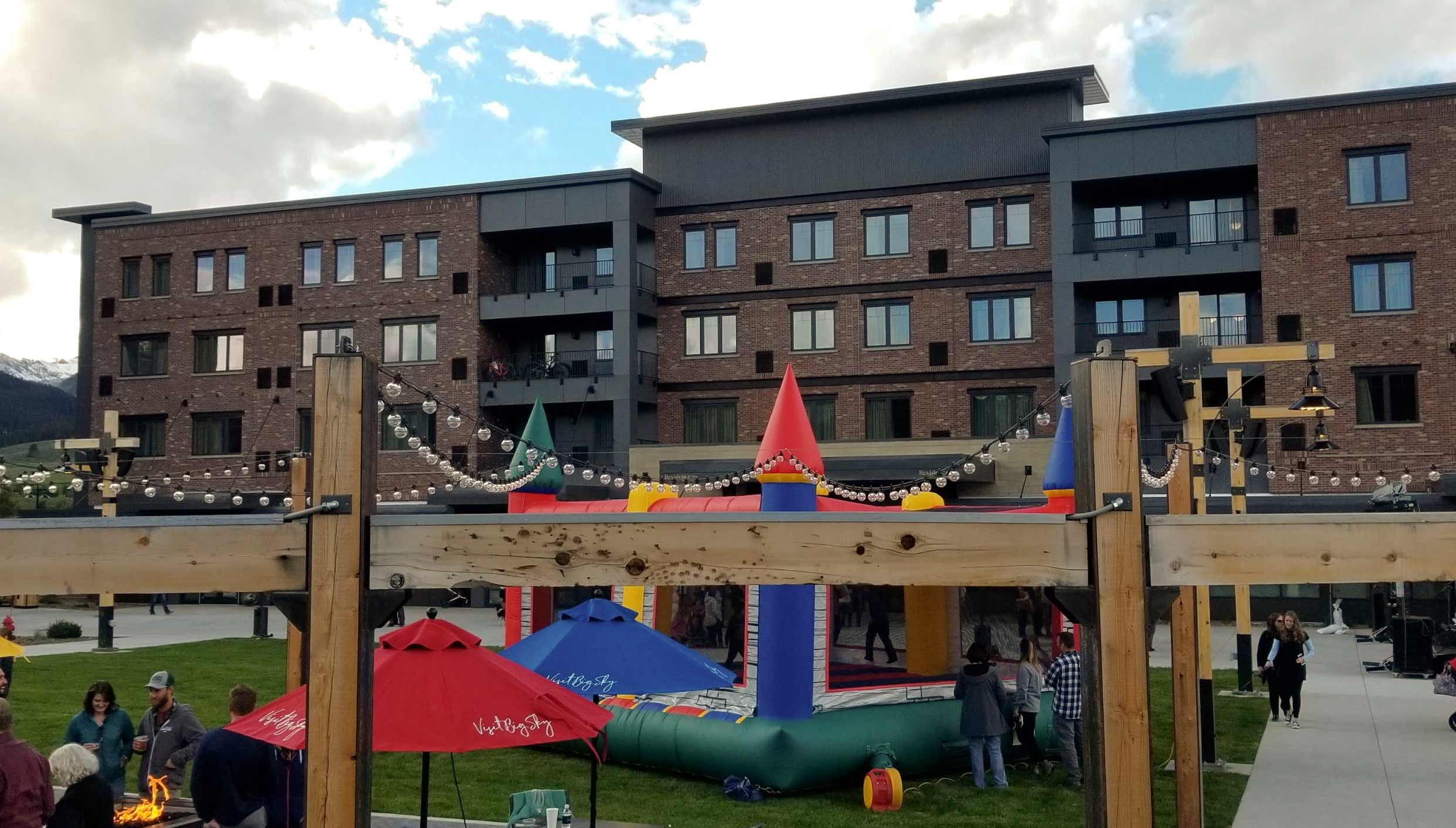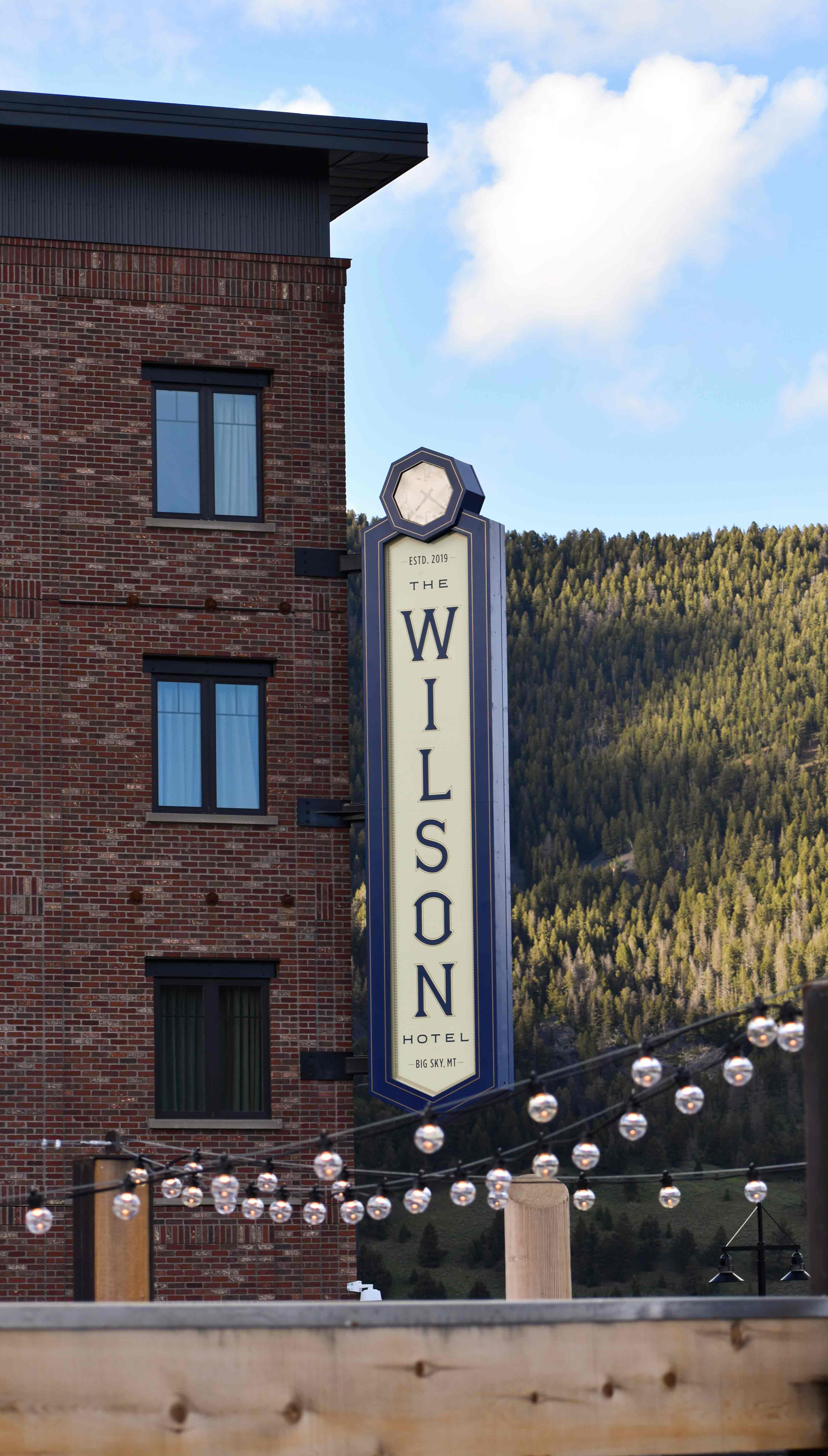 Front-zoomed-edited-Wilson-level-20201106
20180515_TCHotel-Construction
Side-Construction-Wilson2
Wilson-Exterior-Bounce-House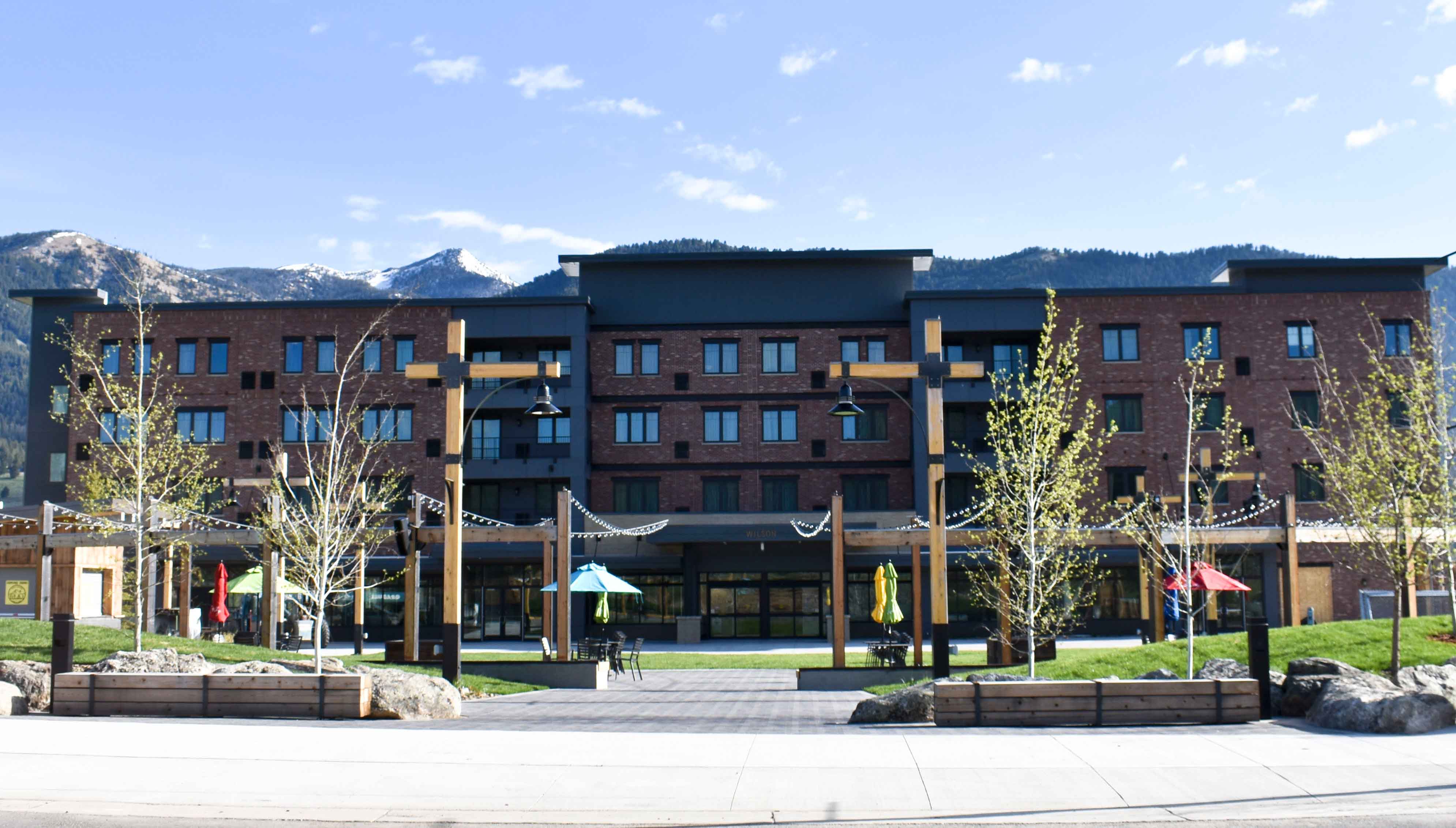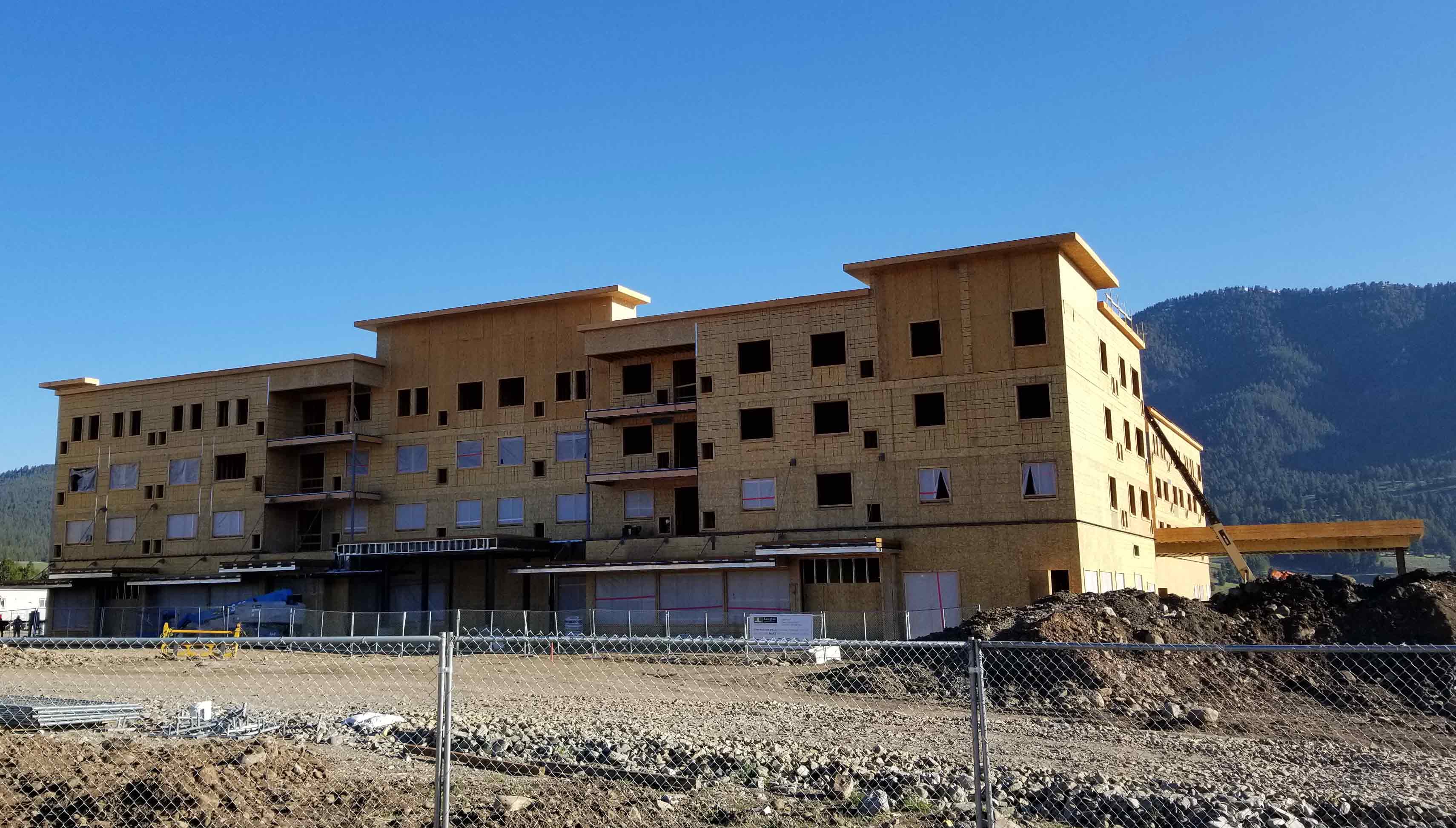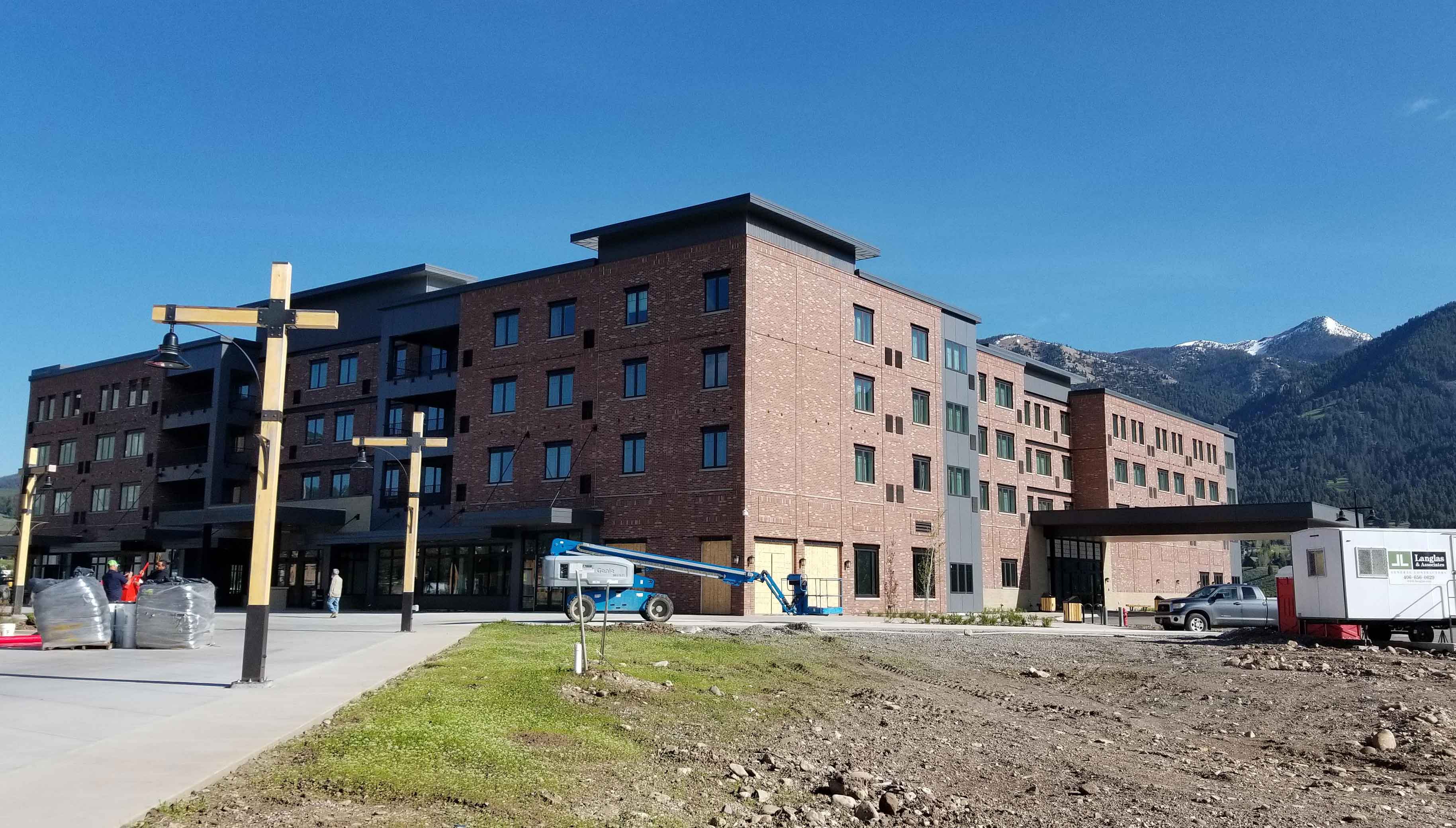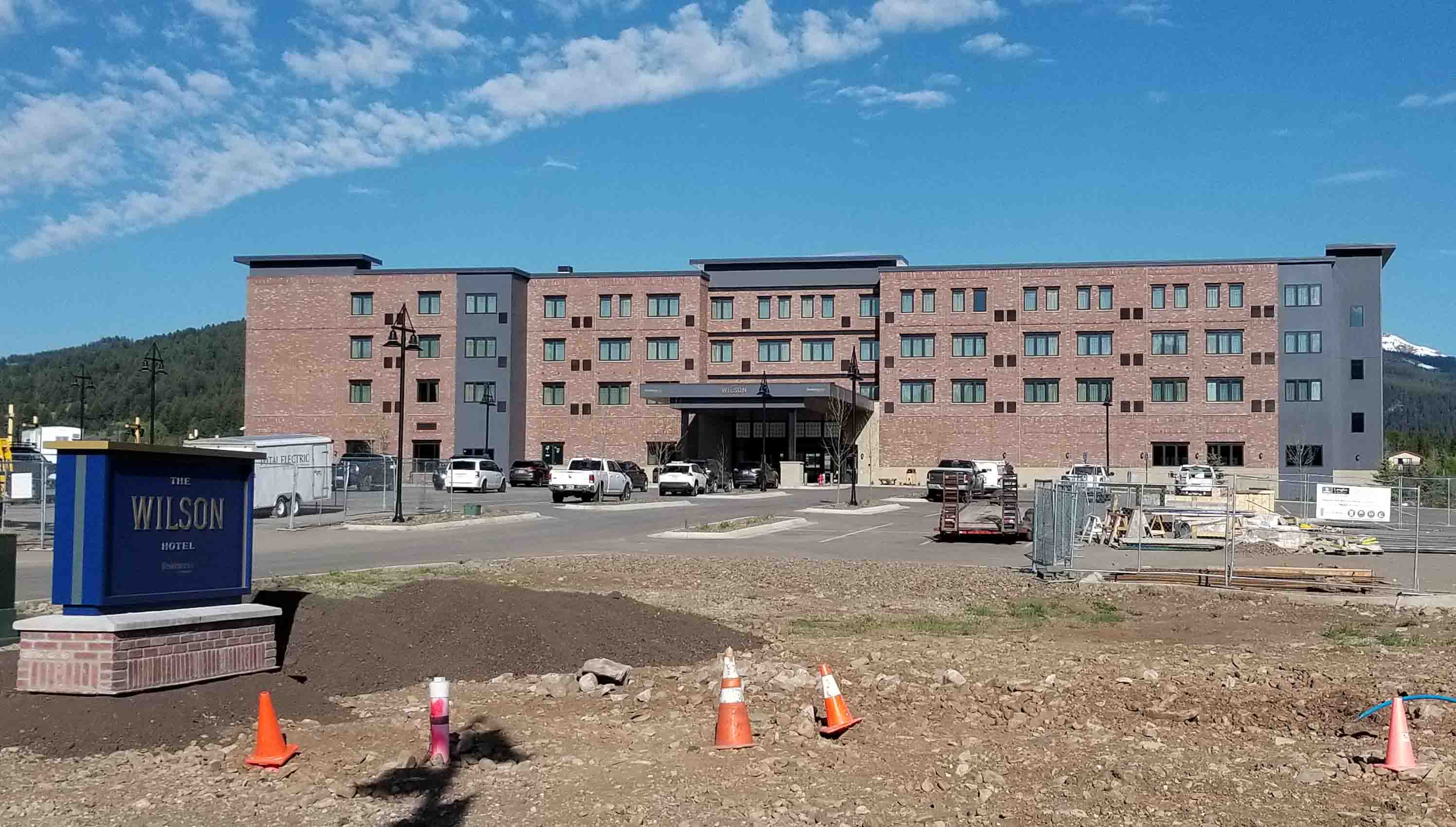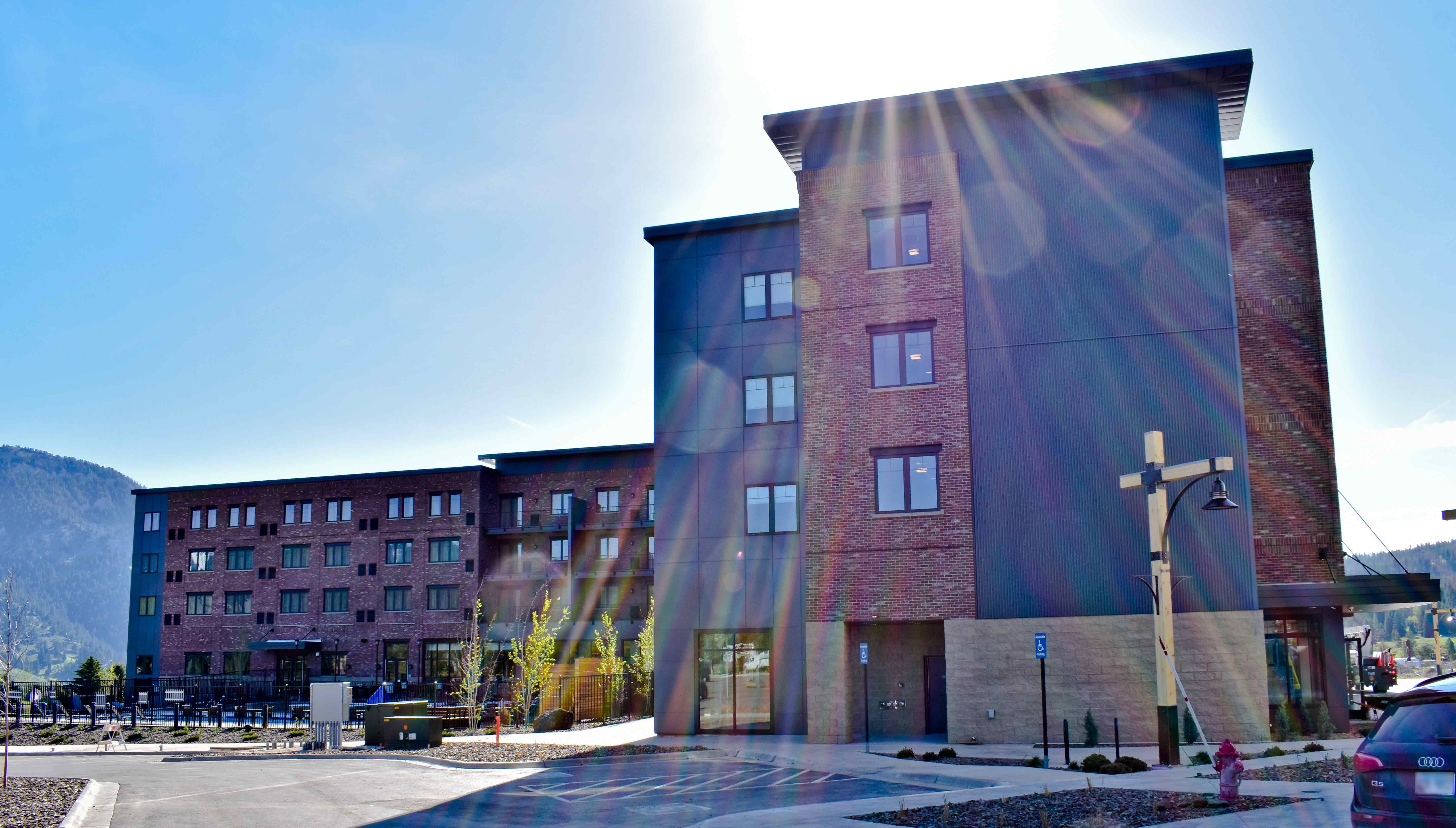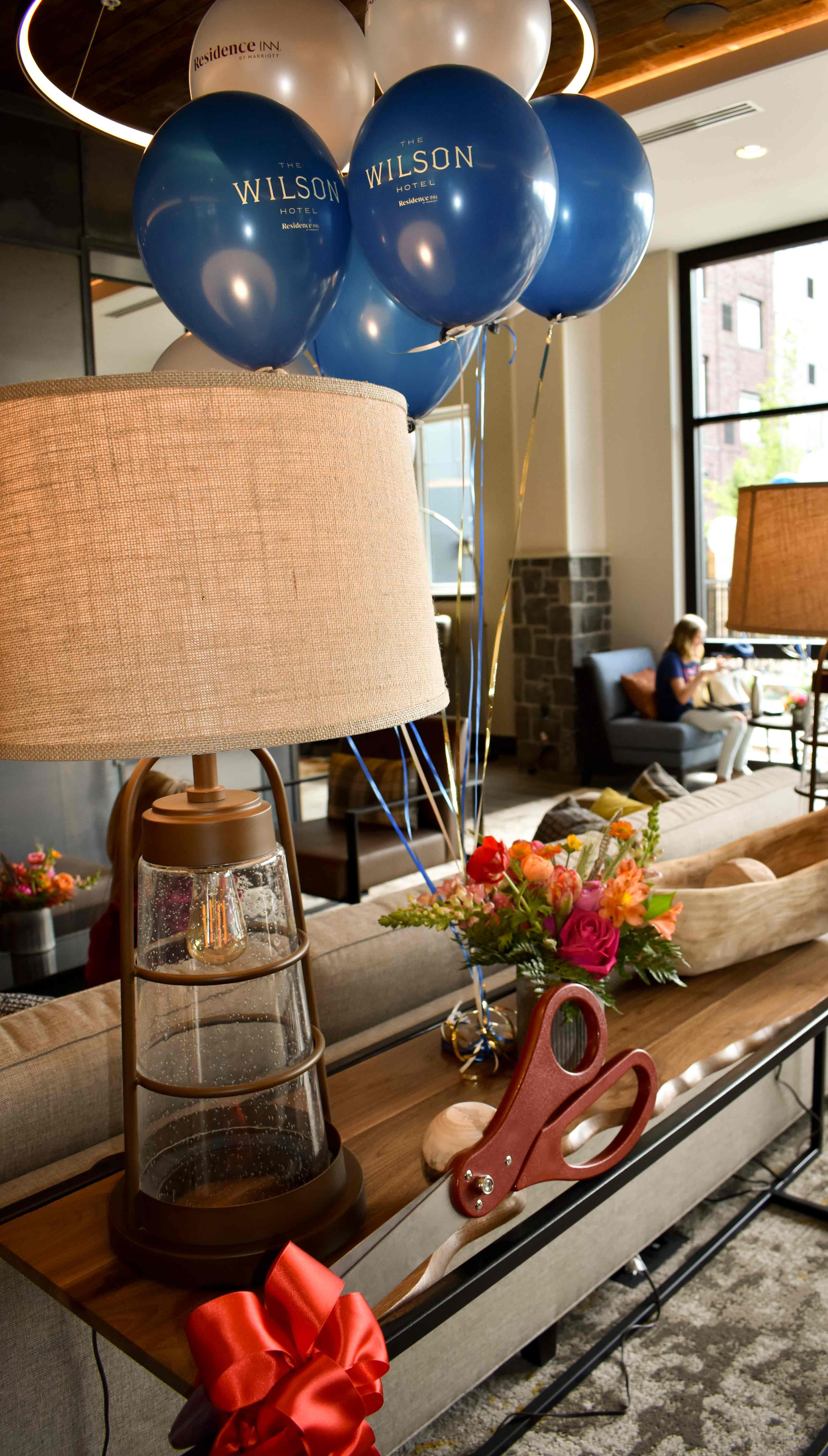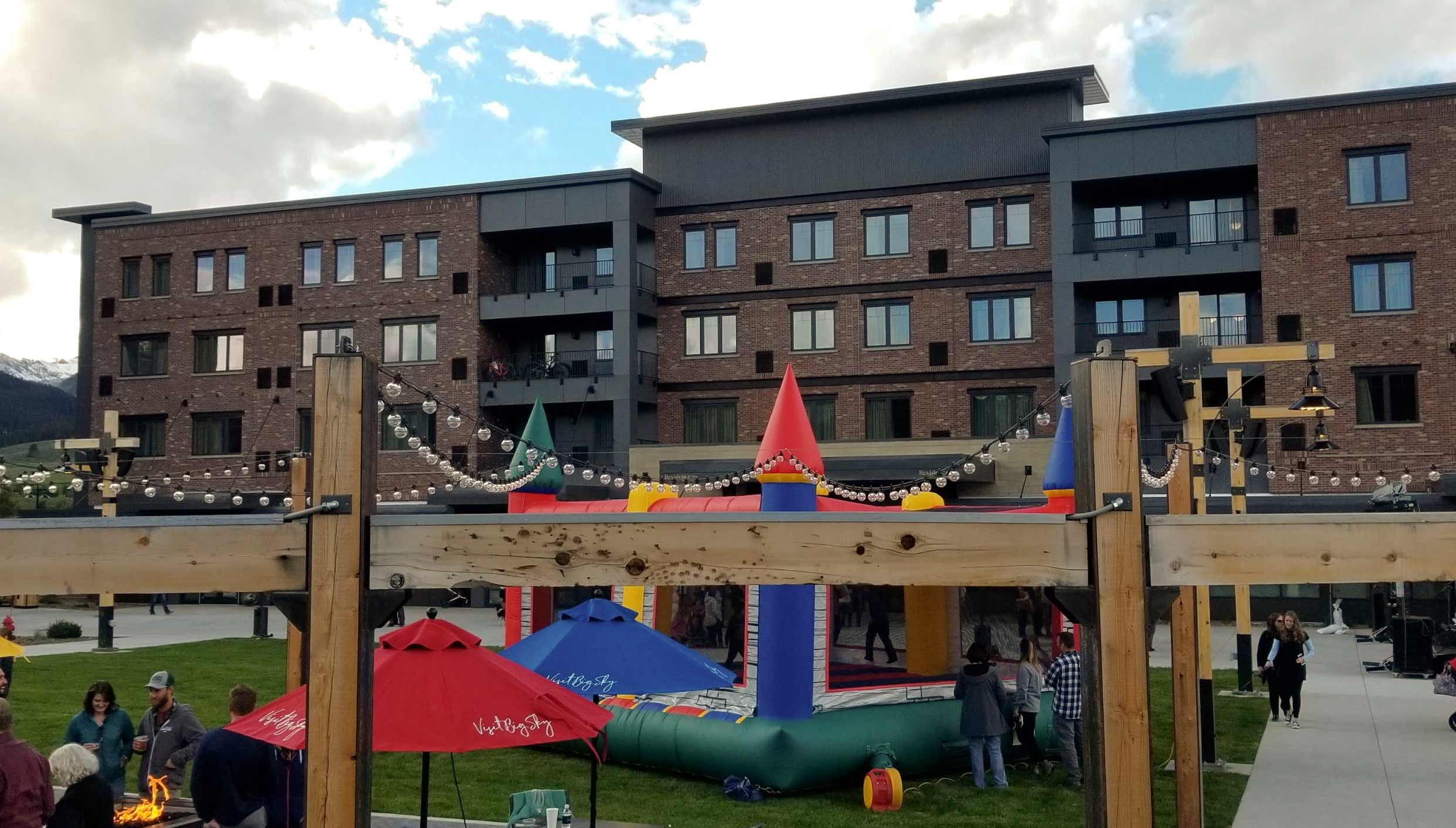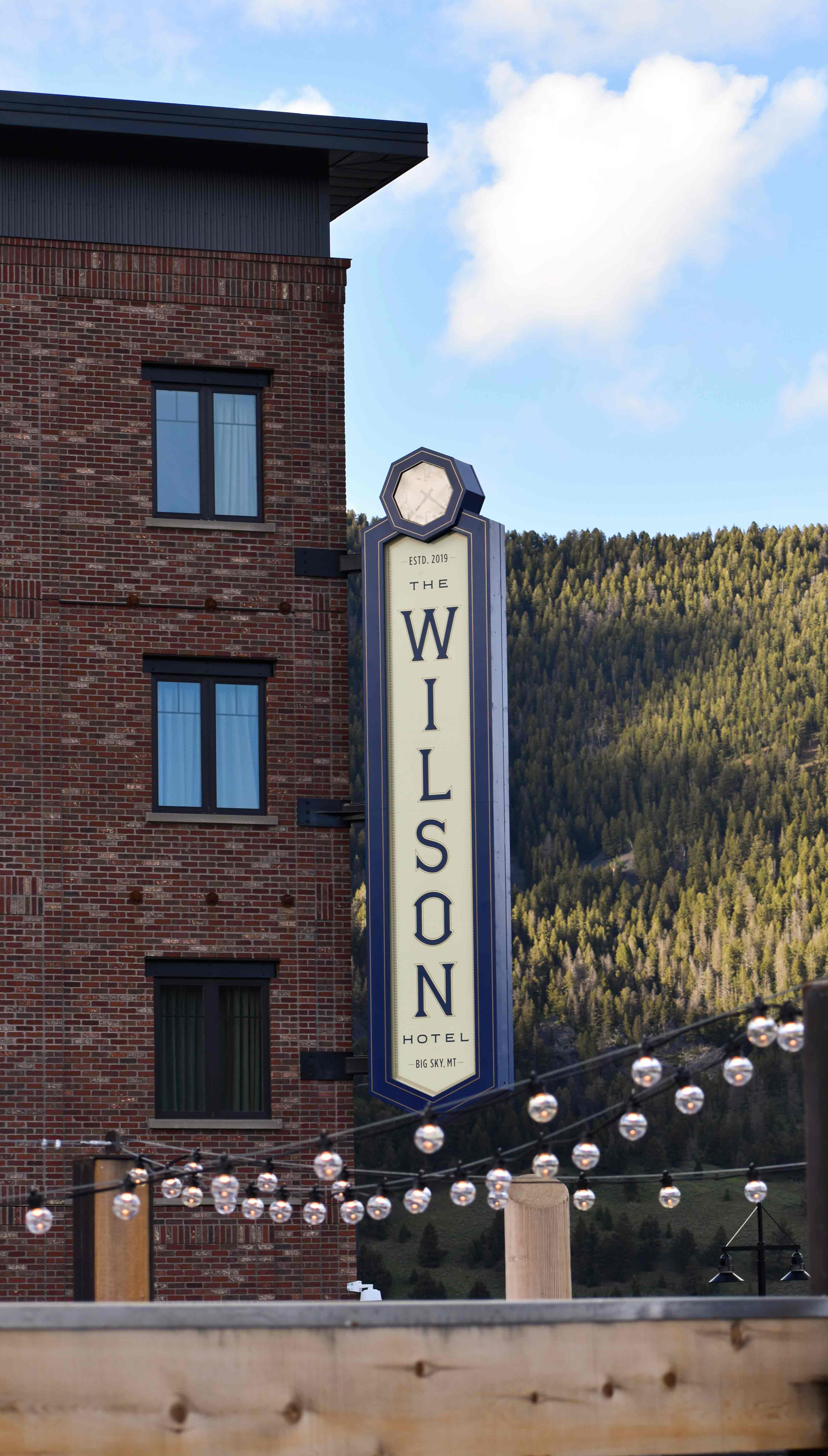 Composite Steel Framing, Concrete Elevator & Stair Cores, Steel Brace Frames, Conventional Wood Framing, Conventional Foundations
The Wilson Hotel / Residence Inn by Marriott is 4 story centerpiece building located in the Big Sky Town Center Plaza.  The design is reminiscent of old western design, but is updated to fit the needs of modern day Big Sky and Yellowstone National Park guests. The hotel has 129 luxury suites, as well as a dramatic lobby, retail/restaurant space, and a large pool/spa with heated deck. A Grand Opening Celebration was held on June 21, 2019.
Designing the Town Center hotel posed several unique challenges.  The architectural layout of the building was of primary importance.  Spaces, especially at the first floor, were designed to be open with as little obstructions as possible.  As a consequence, this minimized the number of columns that could be used on the project as potential locations had to span through two floors of asymmetric spaces.  AE Dynamics worked closely with both the Architect and Interior Design Team in determining a structural column layout that kept the architectural appeal of the building while yielding the most efficient structure possible.  In addition, because of the number of windows and mechanical openings on the exterior of the building, few of the exterior walls could be utilized in the lateral force resisting system.  As a result, AE Dynamics designed special steel concentric braced frames that stood four stories having a width of only 8 feet.  These frames could be inconspicuously placed and concealed within the building while maintaining strength and limiting inter-story drifts under wind and seismic loadings.
Work With Us
Whether you are looking for a design partner, want to be a part of our team, or have general inquiries, we want to hear from you.
View More Structural Design Projects
Bozeman Schools Support Services
Bozeman Schools Support Services
Bozeman Schools Support Services
Bozeman Schools Support Services
Bozeman Schools Support Services
Bozeman Schools Support Services
Bozeman Schools Support Services
Bozeman Schools Support Services
Bozeman Schools Support Services
Bozeman Schools Support Services
Bozeman Schools Support Services
Bozeman Schools Support Services
Bozeman Schools Support Services
Bozeman Schools Support Services
Bozeman Schools Support Services
Bozeman Schools Support Services
Bozeman Schools Support Services
Bozeman Schools Support Services
Bozeman Schools Support Services
Bozeman Schools Support Services
Bozeman Schools Support Services
Bozeman Schools Support Services
Bozeman Schools Support Services
Bozeman Schools Support Services
Professional Engineering Licenses
Our Engineers are Licensed to Practice in the Following States:
Alaska
Alabama
Arizona
Arkansas
California
Colorado
Connecticut
Delaware
Florida
Georgia
Hawaii
Idaho
Illinois
Indiana
Iowa
Kansas
Kentucky
Maine
Maryland
Massachusetts
Minnesota
Mississippi
Missouri
Montana
Nebraska
Nevada
New Hampshire
New Jersey
New Mexico
New York
North Carolina
North Dakota
Ohio
Oklahoma
Oregon
Pennsylvania
Rhode Island
South Carolina
Tennessee
Texas
Utah
Vermont
Virginia
Washington
Washington, DC
West Virginia
Wisconsin
Wyoming
Alaska
Alabama
Arizona
Arkansas
California
Colorado
Connecticut
Delaware
Florida
Georgia
Hawaii
Idaho
Illinois
Indiana
Iowa
Kansas
Kentucky
Maine
Maryland
Massachusetts
Minnesota
Mississippi
Missouri
Montana
Nebraska
Nevada
New Hampshire
New Jersey
New Mexico
New York
North Carolina
North Dakota
Ohio
Oklahoma
Oregon
Pennsylvania
Rhode Island
South Carolina
Tennessee
Texas
Utah
Vermont
Virginia
Washington
Washington, DC
West Virginia
Wisconsin
Wyoming